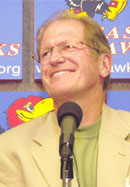 Bob Frederick, Ed.D.
Deceased
Read Blog
IN MEMORY OF DR. BOB FREDERICK
On Friday, 12th June the intercollegiate athletic world lost one of the most respected athletic directors and human beings in the nation.  Dr. Bob Frederick died after suffering a tragic bicycling accident on the previous day.  There will be many tributes to Bob from across the country for he was an excellent athletics director, a leader in many key positions in the NCAA & a wonderful teacher.  But we at Sports  Management Resources (SMR) wish to honor him, not for his accomplishments, which were many, but for the values by which he lived.  His honesty, his integrity, his high ethical standards and fairness in dealing with all types of constituents were legendary.  His real concern, caring and compassion for people, most especially for students, were genuine and deep.   In Bob, we truly had a gentle man and a gentleman who was a superb role model for all of us involved in sport.  We will greatly miss his quiet and wise counsel as well as his warm friendship.
We salute his life and achievements.  Bob Frederick completed his 47 years as a teacher, coach and athletics administrator. In the summer of 2001, he retired as Director of Intercollegiate Athletics at the University of Kansas, his alma mater, after a distinguished 14-year career marked by significant achievements in academics and athletics as well as major improvements to facilities.
Frederick earned his Bachelors, Masters and Doctoral degrees at the University of Kansas. At KU he served as a lecturer in the Department of Health, Sport and Exercise Sciences where he taught classes in the Sport Management program.
In July 1998, Frederick received the Gordon R. Alley Partnership Award from KU's Center for Research in Learning. This was in recognition of his leadership in helping achieve the partnership between the Center and Student Support Services that resulted in the creation of the Strategic Learner Apprenticeship Program, a nationally recognized effort to help at-risk students.
The Student Support Services program was considered one of the strongest in the nation. Under Frederick's leadership, KU ranked 6th among all universities and colleges (3rd among public institutions) in the nation in the production of Academic All-Americans during the 1990's. During that decade, KU produced 40 Academic All-Americans.
Frederick's leadership in all areas earned national respect. He served five years on the Division I Men's Basketball Committee, the last two years serving as chair. Frederick was also a member of the NCAA Special Television Committee that negotiated a $1.725 billion contract with CBS for the Division I Men's Basketball Championship. In March of 1996, Frederick was named, "Man of the Year," by the NIT for his "many years of encouragement, involvement and support of college basketball." At the Final Four in 1997 he received the NABC Cliff Wells Appreciation Award for his contributions to college basketball.
Frederick also served as a member of the NCAA Committee on Women's Athletics and was named in 1997 to the newly created, association-wide NCAA Committee on Sportsmanship and Ethical Conduct, which he chaired in 2000 and 2001. In 1999, Frederick participated in a national summit conference entitled, "Pursuing Victory with Honor," sponsored by the Josephson Institute of Ethics, the Character Counts Coalition and the United States Olympic Committee. Frederick was one of 38 signatories to the "Arizona Accord," which encouraged greater emphasis on the ethical and character-building aspects of athletics competition. He also served as a member of the national Board of Directors of the Character Counts Coalition.
His colleagues at SMR will miss him dearly.